...and it's starting to get a bit "real" now, isn't it?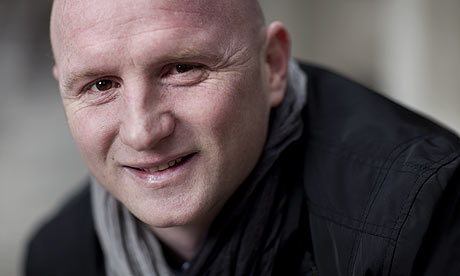 John Hartson
Let's start with
John Hartson
- who spoke with Talksport today about Swansea's chances of securing major silverware for the first time in their history. He thinks the drubbing we were on the end of at Anfield isn't necessarily a bad thing, claiming Swansea will have used this almost to their advantage by reminding the players just how hard they've had to work to reach the final (and to maintain their lofty Premier League status) and how hard they're going to have to work to overcome a Bradford side filled with players who will no doubt be more motivated for this game than for any other game of their careers.
Listen to the John Hartson interview on TalkSport
While we're talking about the final -
Bradford's official site
have released some early team news. Before beating Wycombe 3-0 on the 12th of February, Bradford hadn't actually won in the league since Boxing Day, and with lots of injuries mentioned, it's possible a prolonged cup run has had it's effect on the squad. Lots of their players won't be familiar names to Swansea fans, but
Rory McArdle
has been a regular in the side since signing from Aberdeen, and will be hoping he can overcome an ankle injury in time for Sunday's final. The centre-back returned to training on Tuesday but it remains to be seen whether he'll be fit in time.
Nahki Wells (Left)
Two names possibly more familiar to us are
Nahki Wells
&
Zavon Hines.
The latter came through the famed West Ham youth academy, spending time on loan at Coventry before signing for Burnley, but he never really got going, and with thirteen substitute appearances and no goals to his name he moved to Bournemouth on loan until the end of season. A move to Bradford followed and so far this season he's found the back of the net once in twenty-seven outings. Interestingly, he's scored six goals in ninety career appearances all in all, so he's not turning out to be the prolific striker some fancied him to be.
Nahki Wells
, meanwhile, has shown he has somewhat more of a knack to finding the back of the net. So far he's bagged eighteen goals in thirty-eight games this season, with three of those coming from six starts in the League Cup. Swansea will definitely have to watch out for the wee man from Bermuda, who is proving to be somewhat of a hit with Bradford fans. He started his career at a club with possibly the best moniker I've ever heard - The Dandy Town Hornets. They, of course, play in the Pembroke Parish, but play their league football in the Cingular Wireless Premier Division, and actually won the league last season. Wells scored 20 goals in 18 games for the Hornets, before a succession of moves let to him attending the Richmond International Academic & Soccer Academy in Leeds.
Shaun Goater. Intelligent chap.
Wells was actually offered a contract with Ajax at one point, but turned it down, and somehow, he signed for...wait for it... Carlisle United. I know, that's what I expected too. I did read he'd asked
Shaun Goater
for advice though, and he never struck me as the brightest spark, so that could explain it. He signed a contract with them on the 1st of January 2011, made three appearances, didn't score a goal, and was left out of the matchday squad for the Football League Trophy final against Brentford, and had to watch as his team-mates triumphed 1-0. His contract wasn't renewed at the end of the season, and he joined Bradford on a one year deal after a successful loan spell. It's quite poetic that after missing out on a Wembley trip two years ago, he's been rewarded for two season's hard work with Bradford with a much bigger opportunity, where he'll be able to literally
show the world what he can do. If he was playing anyone else, I'd want him to score.
On a nice let's-find-something-to-link-the-Swans-and-Bradford note, anyone remember
Gary Jones
? I'd be lying if I said the Birkenhead-born midfielder left any impression on me, but I do remember him signing for us from Caernarfon. He only managed eight games for us, but his memories of how Swansea City
used
to be run show how much the club has changed:
Gary Jones. Looks quite like Karl
Pilkington.
"Jan Molby signed me many years ago now and I'm very grateful for them for giving me my first professional contract. I wasn't there that long - I got shipped out to Rochdale on loan. Alan Cork released me after Micky Adams' two weeks in charge.
"It was disappointing but I'm grateful that they gave me my start in professional football. All things happen for a reason and obviously that's what happened.

A lot of credit has got to go to them because of what they've achieved. They were in a position we are now so it just shows you what can be done with the right management, chairman and right backing.
"Hopefully we can take a leaf out of their book so we can be where they are in a few years' time." Gary Jones
Three managers in a year - remember that? As I was saying recently, it really is nice to have that in the back of your mind as it helps keep the club grounded. More than ever, I think it's important the club retains staff where possible as the more ties the club has to the less illustrious past, the easier it will be to counter-act any "glamourisation" of Swansea City FC which is inevitable given their current standing. As Gary points out, it's amazing what you can do with right people at the helm.